Stephen Fabes
Doctor – Writer – Wanderer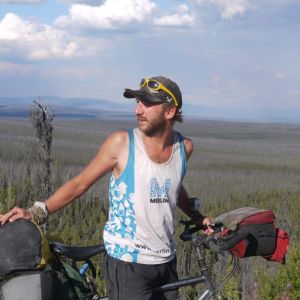 Stephen Fabes is a medical doctor with a bad case of wanderlust and no sense of direction. He finally found his way home in 2016 after cycling the length of six continents – a six-year adventure across 75 countries and 53,000 miles. Stephen uses human stories to explore the landscape of health and disease. His writing has appeared in The Guardian, the Telegraph, Geographical, CNN and the BBC among others. He's a regular at live storytelling nights and currently works at The Royal London, specialising in Acute Medicine. Time off is for running trails. Signs of Life was shortlisted for both the Telegraph Cycling Book of the Year and The Boardman Tasker Prize. It's his first book. 
They say that being a good doctor boils down to just four things: shut up, listen, know something, care.
The same could be said for life on the road, too.
When Stephen Fabes left his job as a junior doctor and set out to cycle around the world, frontline medicine quickly faded from his mind. Of more pressing concern were the daily challenges of life as an unfit rider on an overloaded bike, helplessly in thrall to pastries.
But leaving medicine behind is not as easy as it seems.
As he roves continents, he finds people whose health has suffered through exile, stigma or circumstance, and others, whose lives have been saved through kindness and community. After encountering a frozen body of a monk in the Himalayas, he is drawn ever more to healthcare at the margins of the world, to crumbling sanitoriums and refugee camps, to city dumps and war-torn hospital wards. And as he learns the value of listening to lives – not just solving diagnostic puzzles – Stephen challenges us to see care for the sick as a duty born of our humanity, and our compassion.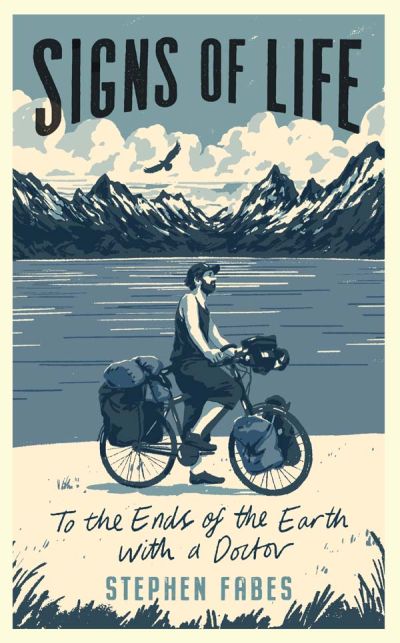 Bookshop.org supports independent bookshops and increases author royalties…
---
'A fever dream for armchair travellers, a dizzying, headlong, hilarious grand tour of six years on two wheels … I lost a couple of days to it and on emerging from its pages the world had become richer and more marvellous … Signs of Life deserves to become a classic of the genre'
Gavin Francis, author of Adventures in Human Being
'What begins as a journey of self-discovery becomes a thoughtful exploration of humanity … Fabes is great company and makes riding bicycles seem like the best way to see and understand the world'
Ben East, The Observer
'An inspirational journey of humanity and humility. Fabes has redefined the medical memoir.'
Nathan Filer
'A clever and entertaining book. Fabes has a gift for describing landscapes … but he isn't afraid to share those lurid medical anecdotes we all crave.'
Jonathan Drummond, The Times Literary Supplement
'A hilarious and moving memoir of a cycling medic's life on the road.'
Xand van Tulleken
'Stephen has managed to beautifully combine travel, medicine, life and loss all in this epic tale of adventure. It made me smile, laugh, want and cry. Bloody brilliant.'
Matt Morgan, author of Critical
'I absolutely loved this book… Full of rich, vivid descriptions of people and landscapes, interwoven with wisdom and compassion'.
Mike Carter, author of One Man and His Bike
'It's so unusual … a helter-skelter, surgical circumnavigation…  so anatomical about places and people… incredibly vivid. It's such a treat, too, in the midst of this experiment in stasis, to be taken on a wildly energetic adventure to unreachable lands.'
Nicholas Crane
'The humour, humility, and self-awareness reminded me at times of Eric Newby. Local history, politics and anecdote are woven together, introducing the reader to a world most will never encounter, and I for one felt richer for the experience… It's hard to believe this is Stephen's first book; I sincerely hope it's not his last'
Sam Jones, Cycle Magazine
'A charming, human story of resilience, adversity and compassion… with a good dose of dry British humour.'
Lois Pryce, author of Revoluntionary Ride
'Signs of Life is a plucky memoir and Fabes is a winning storyteller.  During his journey, Fabes battled injuries, infestations, and Dengue fever.  Yet his travelogue retains its bighearted humor.'
Kevin Canfield, The Star Tribune
'Witty and wild, intrepid and inspirational, the book chronicles two parallel journeys: Fabes' physical cycling tour of many countries and his look at health across the globe…an entertaining and epic chronicle of a journey of extremes.'
Tony Miksanek, Booklist Reviews
'A captivating odyssey… we probe not just the dizzying expanses of our planet's geography but also the exquisite breadth of the human spirit. In an age of weary cynicism, it's reassuring to know that there are still signs of life out there.'
Danielle Ofri, MD, author and editor-in-chief Bellevue Literary Review
'Signs of Life is the kind of book we need right now. It is heart-warming. It is hopeful. It shows us that despite all the guns and guerrillas the world is also full of people who press presents and hospitality on travellers. It is also a very readable travelogue, a thoughtful one.'
Lesley Mason, The Bookbag
'I was smitten with this book… with the self-deprecating, glorious humour. As Fabes put it, his rusty bicycle gave him a backstage pass to the world. By writing the book so marvellously, he gave us one as well.'
Michelle Johnston, Life In The Fast Lane